PolitiFact Wisconsin: Walker's 'record investment' in schools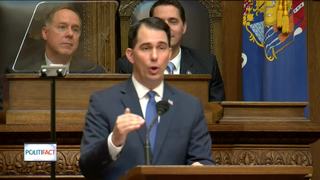 School funding and the Foxconn deal getting a lot of play in the race for governor.
PolitiFact Wisconsin helping us sort through the facts.
"We're fact-checking Governor Walker who says he made a record investment in schools," said Tom Kertscher with the Milwaukee Journal Sentinel.
PolitiFact Wisconsin says Governor Walker's last two-year budget did include a record $11.5 billion for K-12 public schools but that's in raw dollars.
When you add in inflation, Walker's numbers fall short.
"The problem of course is you need to take into account inflation when comparing dollars over time," said Kertscher. With inflation, there are actually seven state budgets prior to when Gov. Walker took office that spent more money on education
PolitiFact rated this claim Mostly False.
We turn on the Flip-O-Meter to look at Matt Flynn's changing position on the state's deal with Foxconn.
He's one of eight Democrats running for governor. At one point Flynn said, "I do not want to sabotage the deal by failing to live up to our commitments."
"Early in the campaign Flynn said he would carry out the state deal which basically provides cash in exchange for jobs," said Kertscher.
But Flynn is now saying he would try to shut down the deal on day one if elected.
"Over time Flynn has said the deal is unconstitutional, illegal and that he will go to court to end it," said Kertscher.
That earned Flynn a Full Flop from PolitiFact Wisconsin