Gov. Walker says he won't pardon Steven Avery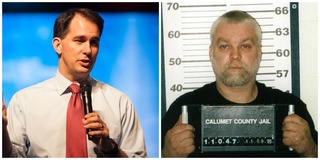 MADISON -- If convicted killer Steven Avery is going to get a pardon, it's not going to come from Wisconsin governor Scott Walker.
Walker's press secretary Laurel Patrick said in an email Tuesday that Walker made his stance on pardons clear early in his administration - he doesn't plan on issuing any.
"As you may know, early in his administration, Governor Walker made the decision not to issue pardons," Patrick said. "Those who feel they have been wrongly convicted can seek to have their convictions overturned by a higher court."
Since the release of Netflix's hit documentary series "Making a Murderer," which features Avery's story, more than 300,000 people have signed online petitions on both WhiteHouse.gov and Change.org demanding his pardon.
Avery is currently serving a life sentence for the murder of Teresa Halbach.
Earlier Tuesday, the documentary's creators appeared on the TODAY Show, where they claimed one of the jurors in the case had reached out to them, saying they believe Avery was framed.