3 suspects charged with 11 total counts in city employee Greg "Ziggy" Zyszkiewicz's homicide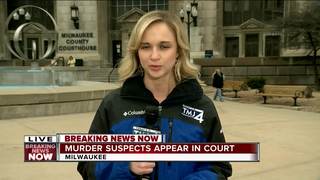 MILWAUKEE -- Three suspects have been charged in last week's homicide of Department of Neighborhood Services employee Greg "Ziggy" Zyszkiewicz, according to a criminal complaint.
17-year-old Deshaun K. Scott, 17-year-old Qhualun D. Shaw, and 21-year-old Eric J. Smiley Jr. were all named in the criminal complaint released Monday.
As the accused shooter, Scott faces the strongest charges. While the three tried to rob Zyzskiewicz of his Mustang, Scott "fired the gun because he panicked when the victim grabbed for him," according to Shaw's statement to police in the complaint.
Scott told police the gun went off as he was "adjusting his hand on the shotgun," the complaint says. He faces charges of first degree reckless homicide by use of a dangerous weapon, attempted armed robbery, and fleeing/eluding a traffic officer causing damage to property; and more than 130 years in prison if convicted of all charges.
Shaw and Smiley Jr. were both charged with felony murder, a lesser charge than first degree intentional homicide, in Zyszkiewicz's death. All three suspects were charged with armed robbery as party to a crime.
Additionally, Smiley Jr. was charged with fleeing or eluding an officer, possession of a firearm by a felon, misdemeanor battery/domestic abuse, and two counts of felony bail jumping. Shaw faces a bail jumping charge as well.
If convicted of all charges, Smiley Jr. and Shaw faces respective prison terms of 81 and 101 years.
Chief Flynn announced last Friday that five suspects had been taken into custody in the case. It's not clear if the other two suspects will face charges.